How Arthramid Vet Can Help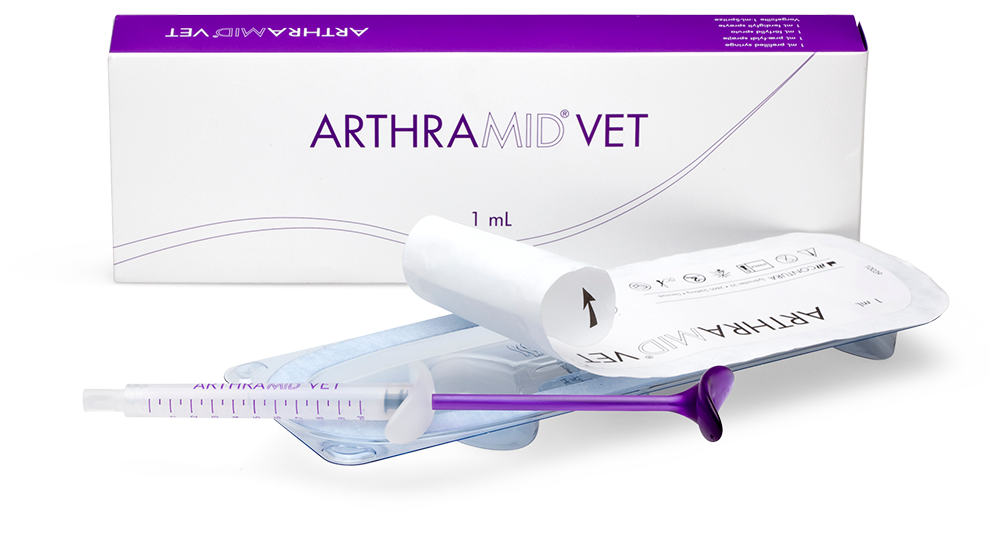 Arthramid® Vet 2.5% PAAG Hydrogel is a pioneering treatment. Implanted into the joint itself, rather than simply mask pain, it defies conventional treatments by restoring function and movement to joints.
Arthramid® Vet has a unique mechanism of action.The advanced gel acts as a "bio-scaffold" that bonds with the injured tissue and strengthens the joint to provide support and better function of movement.
As a cutting edge treatment, Arthramid® Vet is trusted by owners, veterinary professionals and trainers. For use only by veterinarians, Arthramid Vet doesn't simply sell treatments, but the promise of a healthy, active animal.
Unique mechanism of action
Long lasting
Non-Pharmacological
Safe
Osteoarthritis is a debilitating disease in horses that can be caused by traumatic injury or even just by the usual wear and tear of daily performance. As the cartilage or cushion between the joint bones breaks down, pain, stiffness and swelling develop causing lameness that can be difficult to resolve and worsens over time. Almost invariably, this osteoarthritis is preceded by synovitis or inflammation (swelling, pain & warmth) of the synovial membrane (joint lining) inside the affected joint.
How Arthramid Vet works
If your horse has synovitis, capsulitis or osteoarthritis, it is likely that Arthramid® Vet can be of benefit.
After injection into the joint space, Arthramid® Vet hydrogel integrates into the synovial membrane, stabilising the joint capsule, and increasing elasticity which, in turn, reduces the onset and development of synovitis and its harmful effects.
Arthramid® Vet essentially recreates the cushion by forming a "scaffold" inside the joint which allows for the preservation and/ or regeneration of the joint cartilage and synovium contributing to reducing the pain of synovitis and osteoarthritis, and ultimately restoring the joint function. Additionally, the formation of rejuvenated synovium promotes improvement in the nature of the synovial fluid within the joint itself.
Studies in racing thoroughbreds (de Clifford & Lowe et al, 2020), demonstrate that 83.3% of horses had a successful resolution of lameness 6 weeks after treatment with Arthramid® Vet. In sport horses, 82.5% of lame horses treated with Arthramid® Vet were lame-free at 24 months (Tnibar, 2015)
Arthramid® Vet Brochure
Owners and Trainers: an introduction to Arthramid Vet for horse owners and trainers. The key facts about this pioneering treatment for joint lameness.
GET THE BROCHURE
Testimonials
Josh Barker
MARGARET PARK
I've had nothing but successful outcomes since with Arthramid Vet. "
READ MORE
Josh Barker
MARGARET PARK
We tried Arthramid Vet a few years ago, in the early stages of its development. We had a 6-year-old warmblood showjumper that was frequently lame in its near hind fetlock. We'd been trying to manage him with cortisone but with limited success. X-rays had shown up an OCD lesion so we had that removed surgically and treated him with Arthramid. Within 2 weeks he was completely sound and stayed sound over a successful competitive season. When he went a little off again in the same fetlock in his early preparation about 12 months later we went straight back in with Arthramid and the horse has never looked back. I've had nothing but successful outcomes since with Arthramid Vet. In my opinion, to help manage performance horses, the use of Arthramid to rebuild and strengthen affected joints is a better option than repetitive treatments of corticosteroids that don't resolve the initial cause of the lameness.
I've had nothing but successful outcomes since with Arthramid Vet. "
Stephanie Tierney
RACEHORSE TRAINER
I was introduced to Arthramid Vet by my veterinarian. I find it to be a very safe, effective and long-lasting treatment and it is well received by the horses."
READ MORE
Stephanie Tierney
RACEHORSE TRAINER
"I was introduced to Arthramid Vet by my veterinarian. I find it to be a very safe, effective and long-lasting treatment and it is well received by the horses. I've experienced in my horses a quick improvement in appetite and attitude and an increase in their willingness to work & perform. I put that down to the progressive pain relief and the fact that they are starting to feel strong again in the legs. I highly recommend Arthramid Vet to restore the performance and quality of life of racehorses."
I was introduced to Arthramid Vet by my veterinarian. I find it to be a very safe, effective and long-lasting treatment and it is well received by the horses."
ALL TESTIMONIALS
FREQUENTLY ASKED QUESTIONS
What you need to know
Is Arthramid® Vet hydrogel safe to use in my horse?
Arthramid® Vet is an inert, non-toxic and biocompatible material that is completely safe and stable within the joint. 2.5% Polyacrylamide (2.5% PAAG) has been extensively studied, tested and used safely in horses and humans over many years and Arthramid® Vet is approved and registered in New Zealand, Australia & USA.
It can be used to treat lameness and joint pain in coffin joints, pastern joints, fetlock joints, carpal (knee) joints, hock joints and stifle joints.
Are there any side-effects or reactions to the use of Arthramid® Vet?
There are no observed side-effects to Arthramid® Vet. There is a slight risk (<1:1000) that your horse may develop a transient oedema and tenderness at the treatment site as the tissue integration is occurring. If not caused by infection, these reactions are usually self-limiting and will resolve within a couple of weeks. If this does occur always seek veterinary advice.
Does Arthramid® Vet have a withholding time for competition?
Arthramid® Vet is not a pharmaceutical preparation and its ingredients are not prohibited substances. You can be assured that it will not produce a positive test. In some competition jurisdictions, a withholding time may be imposed on any intra-articular injections. We recommend you discuss this with your veterinarian.
When is the best time to use Arthramid® Vet?
Arthramid® Vet is effective in both early and late stages of osteoarthritis but best results are obtained by treating earlier in the disease process. This allows the product to slow the deterioration of the disease and give your horse a greater chance of continuing in training and meeting its full performance potential.
Can I continue to exercise my horse after treatment with Arthramid® Vet?
We recommend a 48-hour rest period immediately after the procedure followed by 2 weeks of light exercise. Swimming, water treadmills and dry treadmills are ideal during this period. After this initial period of lower impact exercise, you should be able to train and compete your horse to the extent you wish.
Can I use Arthramid® Vet if my horse has already started its preparation?
Yes. To avoid pain and any interruption of the training programme it is best to plan the treatment in advance of exercise and the earlier in the preparation the better. However, as long as the above post-treatment recommendations are followed treatment can be at any stage.
Is Arthramid® Vet as effective in treating lameness compared to corticosteroids?
Clinical studies in racing thoroughbreds demonstrate Arthramid Vet is more effective (83.3%) at treating lameness, versus corticosteroids such as Triamcinolone (27.3%), and Hyaluronic Acid (40%) alone.
Keep in mind that Arthramid® Vet has a different mode of action and requires 2-4-weeks to allow its full integration into the joint. Patience at this stage will result in a better and longer-lasting soundness and a more cost-effective treatment option of arthritis in for your horse.
Note. Veterinarians may still use conventional IA or systemic medications when additional reduction in joint inflammation is required in the early stages, with treatment of Arthramid® Vet taking place 2-4 weeks later.
How quickly does Arthramid® Vet work?
Arthramid® Vet begins to work immediately but it takes 2-4 weeks to fully integrate into the joint. Pain will gradually subside over this period. It is important to remember that Arthramid® Vet does not treat the symptoms of lameness (e.g. masking the pain) rather it works to remove the underlying cause of the lameness. It requires a more patient approach but provides a superior and longer-lasting effect to conventional treatments.
How often do I need to use Arthramid® Vet?
In most cases, only one treatment of Arthramid® Vet is required in a campaign or season. In about 15% of lameness cases (partial responders), a second treatment may be required. It is very common that horses remain lame-free over the course of several competitive seasons. Your veterinarian will be able to explain dose rates as these vary between different joints and the severity of the arthritis.
Who can use Arthramid® Vet?
Arthramid® Vet is a registered veterinary medicine for intra-articular use only it is only available by prescription from your veterinarian and must be administered only by qualified veterinarians.